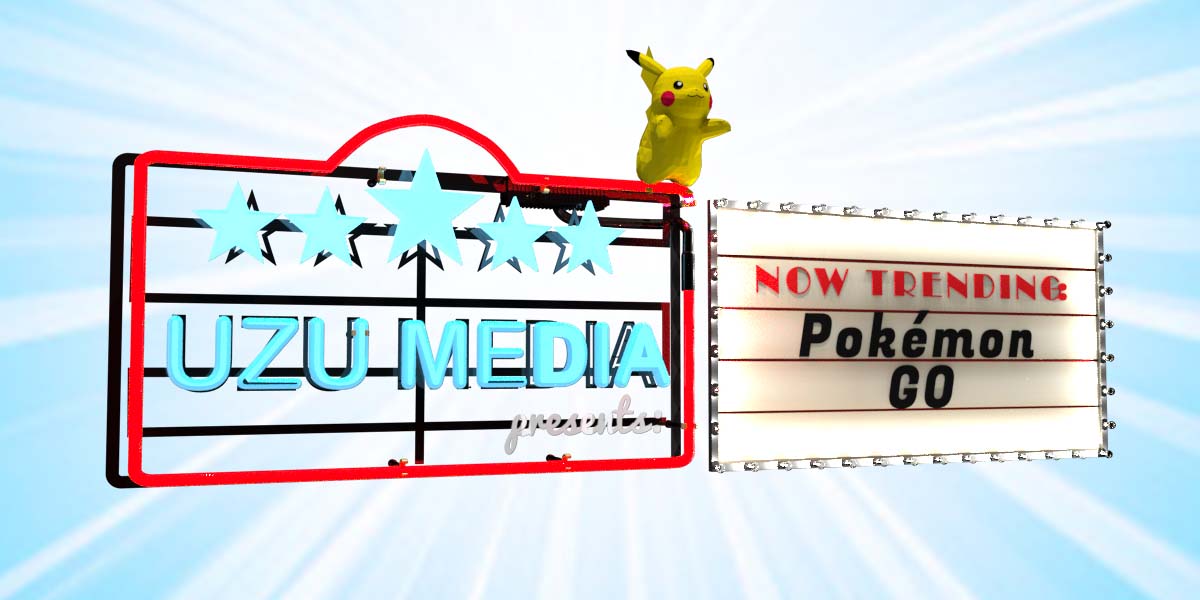 Pokémon Go is easily one of the largest social epidemics to occur since the Digital Revolution that began in the 1950s. Mind you, this fad was bred 20 years ago in the golden year of 1996 where both the Chicago Bulls won their 4th NBA championship and Bill Clinton was winning his 2nd presidential election.
Fast forward a couple of decades and you have Nintendo nearly doubling their stock value with a relaunch of their most powerful brand: Pokémon. This time however, Nintendo team with Niantic, Inc to have these colorful creatures splashed throughout augmented reality to create a new realm of interaction for users both young and old.
Pokémon for Business?
Just like with every other trend, most businesses are wondering how they can make it more profitable for them. Believe it or not, you can benefit from this craze without losing a lot of time, money, or having to lose a part of your soul. For a quick buck, you can bring all the nerds to your business without most of them even realizing it.
The game includes tools like lures and incense that attract loose Pokémon to a specific site for a limited amount of time. You can ingeniously put up what is called a lure module in your business that will attract foot traffic from eager Poké-hunters, giving you more opportunity for customers. This obviously works best with food and beverage stores, since patrons are probably parched from pursuing the prized Pikachu.
Another opportunity to take advantage of this social phenomena is to target the hundreds of people attending Poké-Meet Ups at major parks in cities around the globe. If you're a vendor with great merchandise, search on Facebook for these type of events and post up with your kiosk outside (mind your local vending laws). You can also turn your specific GPS location into a gym to attract even more players and activity. Slight disclaimer: I haven't actually played the game so I have no idea how to actually do these things.
No, Not Everybody Is Doing It
Yeah, I said it. I have NOT played the game NOR have I any intention of playing it. As a Social Media Manager, I fear the only reason I will download the game is because my boss wants me to. Be not disillusioned! I have a genuine affinity for all of the pocket monsters especially having seen their birth 20 years ago, but simply put… I have better things to do.
It's clear that there is some sort of societal void that needs to be filled if a game that stems from insect collecting and targets adolescent tweens has had more users install the app in the first week than Tinder has had in its entire lifetime. Obviously this game appeals to a larger demographic, but these numbers almost assume people like Pokémon more than sex. Considering the amount of average daily users has now even trumped Twitter is even more indicative of its influence. Moreover, please understand that Pokemon Go is still unavailable in some countries… Like, most of Asia. (Weird right?)

A User Utopia?
We can say a positive point to Pokémon Go is that it forces people to engage in outdoor activity, but it's a damn shame that we need an excuse to step outside and get fresh air. And even though you're getting outside, people are finding themselves in very precarious situations because of this extremely distracting game.
Falling off cliffs and finding dead bodies is just the tip of this proverbial iceberg. With the extreme battery draining and conspiracy theorists highlighting extreme invasions of privacy within Niantic's policies, it's amazing to see how many hordes of people still willing to engage in this game. Why is this app so successful? What about this augmented universe is creating such a utopia for its users?
Activity
It seems trying to catch imaginary characters is the only thing get people moving. We all wish we were adventurers like the late Steve Irwin, but this game allows us to chase creepy crawlies without any threat of retaliation. And having the app launched in the dead of summer makes it a great time for users to get moving. This game is also breaking down a lot of social barriers for those who might have some sort of anxiety or disorder, giving people an immediate ice breaker and a common goal.
Therapy
In a lot of ways, this game is like therapy for people. Fills time, gives people attainable tasks, and creates an illusion of inclusion. Unlike in Freudian Psychoanalysis where one would examine the patient's childhood to find the cause of any social disorders, Pokémon Go gives us elements of Cognitive Behavioral Therapy and immerses us in a world temporarily safer than our own.
Nostalgia
The true catalyst to this recent resurgence would have to be the nostalgic essence most millennials are getting from this 20-year-old idea. Mix that with the technology of augmented reality and we now feel like our imagination can come to life.
It's Only Been Two Weeks
Pokémon Go is such an epidemic, we could literally talk about it all day considering how much it's beginning to leak out into other industries and businesses. As updates to the application come about and more statistics are released, stick with us as we delve deeper into the life of this exciting trend that may turn into a tradition rather quickly.