( 8 Tips for Marketing in the Time of Covid )
Investing in

A well-established SEO strategy is now more important than ever. 
With little warning or time to prepare for the unknown, the coronavirus caused radical changes in the behavior of consumers and businesses. With the amount of ingested/consumed online content being higher than ever, the question remains whether your business is cultivating the right online presence/environment to reap the fruits of this rise in online traffic. The pandemic caused change both in consumer buying behaviors and search behaviors. The graph below, from Google Trends, shows how content related to COVID-19 is the most searched topic from January through September 2020.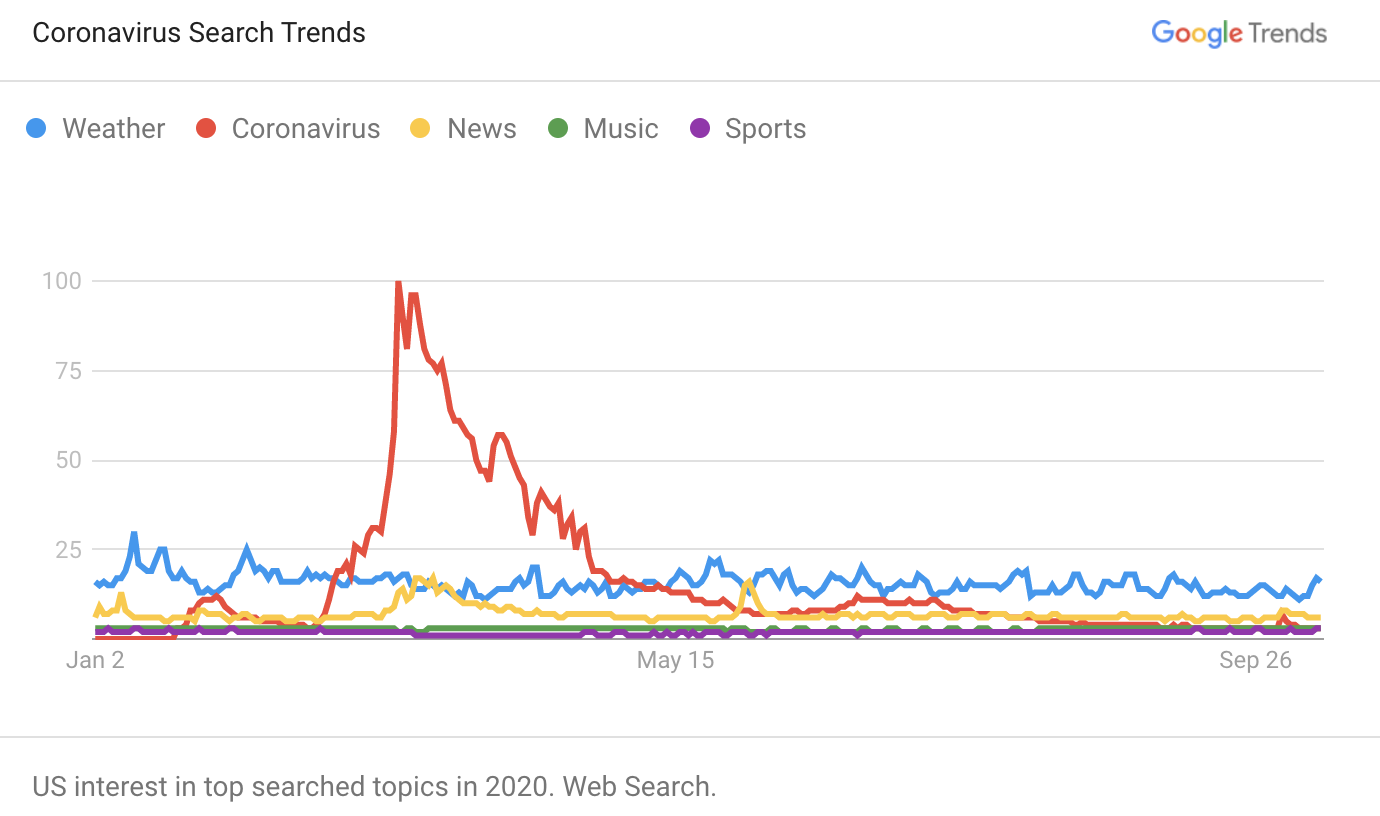 Google's Search Trends
To the left shows one of the graphs for the search "Coronavirus" over the course of the last year, showing how things changed from January to the peak of search in March and April.
Site Traffic Trends
In the meantime, site traffic to businesses that offer non-essential services and products, experienced a significant downfall during the first few weeks of the pandemic.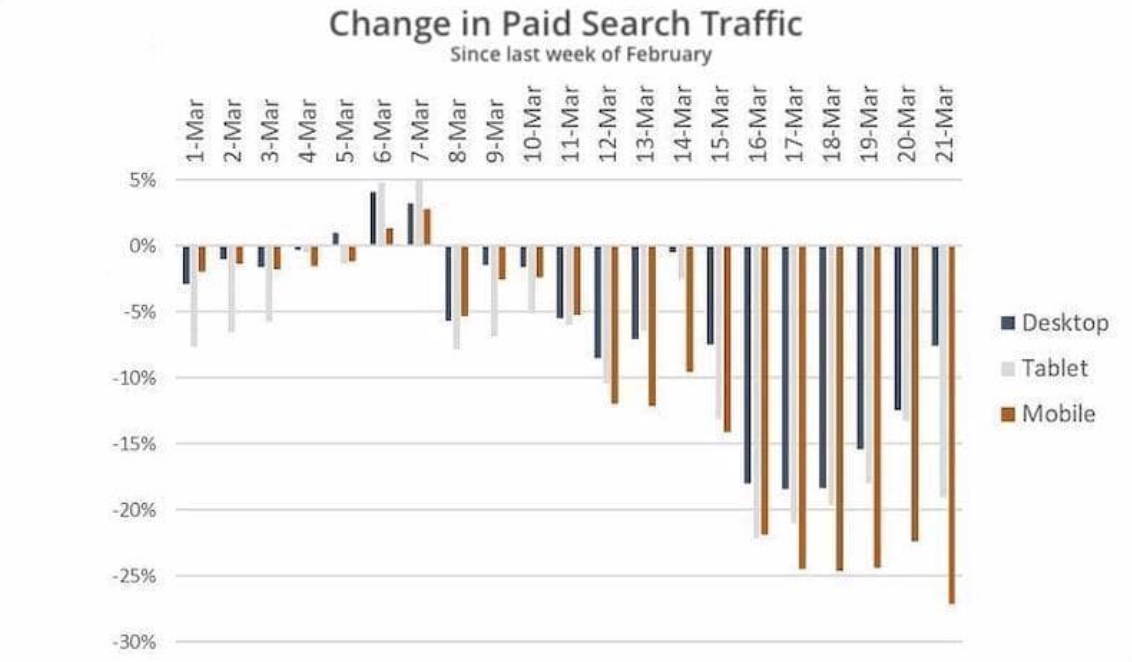 This is a critical development for anyone who's business is not labeled as essential. Even though this can cause a great deal of stress, there are ways that your business can prosper during these times of uncertainty. The SEO strategy that you use to attract a significant influx of traffic to your site has become extremely important.
1. Set up a Google My Business page
A Google My Business page shows your business information directly next to the search results, including a link to your website, opening hours, address, and costumer reviews. Costumer reviews are very important. On the one hand, they give you the opportunity to collect people's reviews about your business. On the other hand, people use other costumer reviews now more than ever to decide whether your products or services are relevant to their needs during the COVID-19 pandemic. If you already have a Google My Business listing, make sure that you've adjust your office hours to reflect COVID timetables. We'll go more indepth on GMB listings in the near future.
Some of the benefits of a Google My Business (GMB) page are:
Show Up In Google's Local 3-Pack
Earn Quicker Trust From Customers
Have Access to Google's Star Ratings 
Increase Traffic (and therefore Sales)
Let Others Learn More About Your Business
Rank Higher in Results

Stand Out from Competitors Who Don't Have One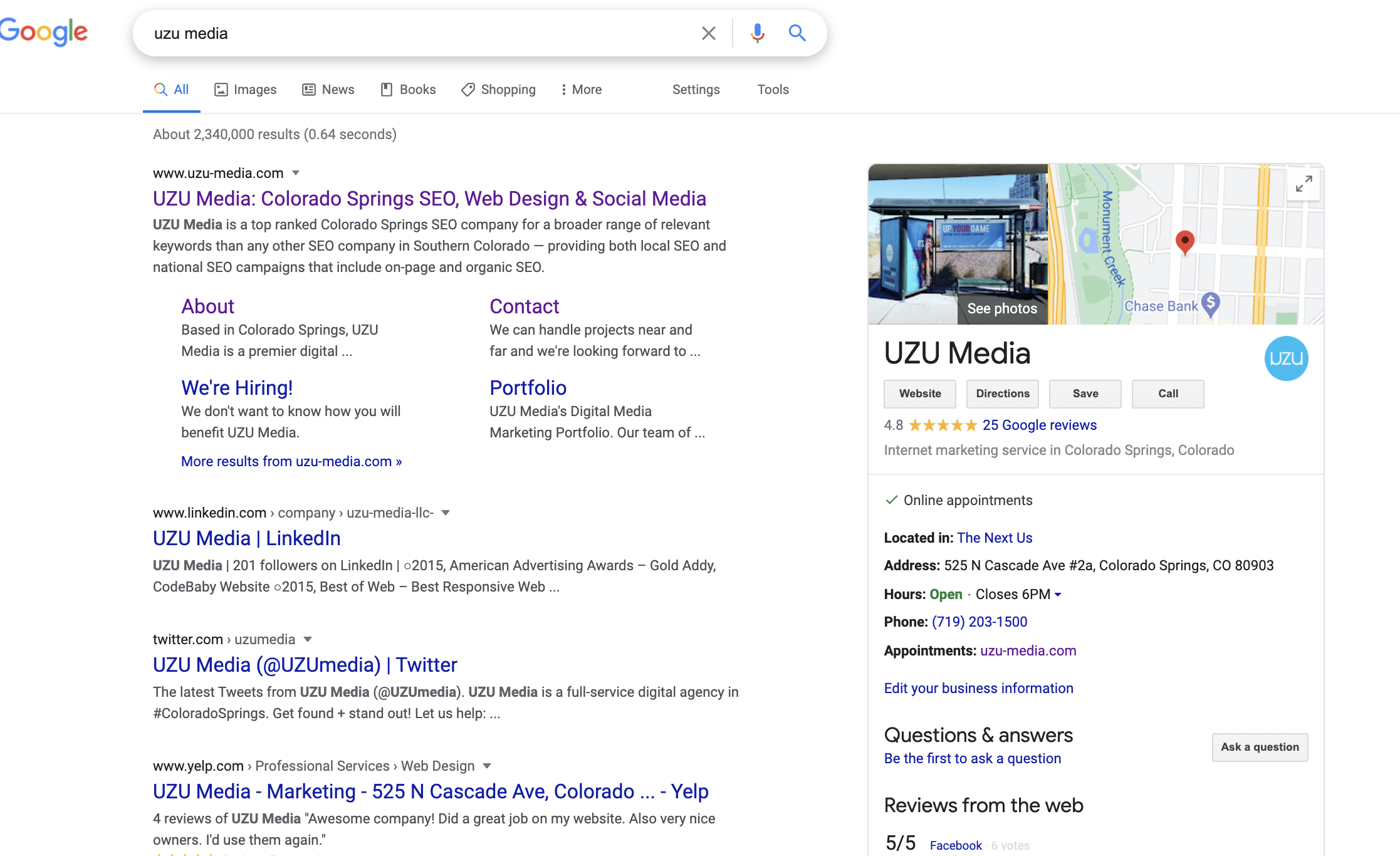 An Example GMB listing – UZU Media
To the left shows UZU Media's Google My Business (GMB) listing. If you don't have one, and people search for you, that area to the right with the pictures would be missing.
2. Consumers are asking. Are you there? 
As most interpersonal communication has had to find a new forum to take place, people are spending significantly more time connecting and conversing online. The increase of ZOOM is a great example of this.
By closely observing the conversations that take place that involve your products and services, you can refine your SEO strategy. Using a social listening tool allows you to understand which trends you need to be aware of and how your competition is doing compared to your business. You will discover keywords and phrases that will improve your rankings and offer your website visitors relevant content.
3. Produce content that is related to covid-19
This is crucial to maximize your SEO strategy and help you build and nurture a healthy relationship with your visitors and, hopefully, costumers, built on trust. You can use inspirational stories about your business, yourself, or your employees during life in the pandemic. Generally speaking, make sure you include content about topics related to COVID-19, when possible, incorporating keywords that are currently trending on Google search results. For example, you can give readers guidelines on how your business and your costumers stay safe and protected from the coronavirus.
4. A

dd a FAQ page dedicated to COVID-19
Many people have questions related to the pandemic. And how your business is responding. You can use this to boost traffic to your site, providing your customers with a FAQ page where they can find answers to questions they have regarding the pandemic. It offers your customers certainty that your business is open and that safety precautions are being taken to keep yourself, your business, and them, safe. Adding a page like this will give you the opportunity to capatalize on traffic brought in by keywords that are trending. This is especially helpful if you run a business that is not valued as essential.
5. I

nvest in evergreen content + Repurpose your old content
Evergreen content is search-optimized content that is continually relevant and stays "fresh" for readers over a long period of time. Fill this content with helpful information and actionable tips. Evergreen content can secure a steady and reliable traffic flow to your website over time because it provides a constant relevance to the interests of your target audience. The pandemic has caused a lot of fluctuations in people's lifestyles and career choices. People are searching for resources to provide them information on new skills and knowledge, allowing them to change accordingly during the pandemic.
There are tools you can use, such as Google Analytics, to find your highest performing content on your website. Even if they performed well way before the pandemic hit, you can update them so that they are even more relevant to these times. Blogposts are a good example to do this with. This can augment traffic drawn to your website.
Make a list and freshen data, statistics, graphs, and other figures up. Replace external links with functioning ones. Use newer articles and create links to them within the refreshed content. Then add keywords that are trending and relevant.  (**Remember to add a disclaimer to blogposts to avoid confusion about comments that were submitted a while ago.)
6. M

aintain relationships alive through conversation + Social Media
Was your business was forced to close temporarily? Whether it was or not, it is very important to keep reaching out and engaging with your costumers and leads. Followers on social media and subscribers to your email list need a balanced and tactful outreach, offering a clear awareness of the current crisis. Use helpful content that Don't overflow them with offers in these times full of uncertainty. Provide them with useful content that intends to solve problems and alleviate their concerns. You can subtly promote your products and services, but write carefully so that you focus on assisting your customers during the COVID-19 pandemic.
Keeping your social media updated will also show a consistency in your business that people will be looking for in these current times.
7. H

ave schema markup on your page 
Schema markup is code embeded on your website to help search engines  (like Google) return more informative results for users. An example would be "rich snippets".
Schema Markup can help:
Your website rank better
Visitors see a better snapshot of your website before visiting
Increase your CTR (click through rate)
Become eligible for SERP features to get more real estate in the SERPs
Below are 2 examples of Schema Markup. From the star ratings on the left example, to the search bar on the right example, schema markup can provide more information to the searcher.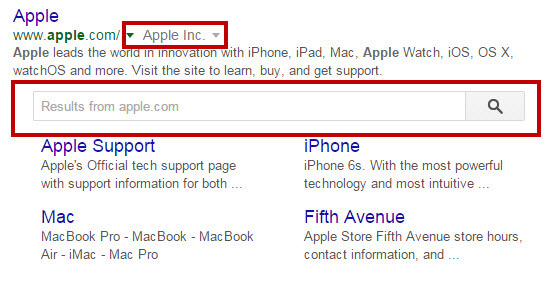 8. K

eep the quality of user experience practices high
Create user experience practices that improve the quality and perception of your user's interaction with the services and products that you offer on your website. For example, your website should load within three seconds. If it takes longer than that, your visitors are more likely to leave. You could use a tool like Google's Page Insights, which shows you your website's loading speed and give suggestions on how to improve it.
Keep in mind too, that it should be easy for your website visitors to find the information they are looking for. Besides that, it is important to encourage your visitors to stay longer on your website. You could use the topic cluster model to organize your content in such a way that it links different content publications together according to a specific topic. This shows Google the quality of the content that is published on your website, resulting in higher search rankings.
In Conclusion – Times are changing
Don't risk being left behind during these times of change through the pandemic. It is crucial to learn how to adapt quickly. Applying one of the above mentioned strategies at a time will assure you with clear monitoring abilities to evaluate the results that you're getting.
We're happy to set up a time to talk and help your business update and adjust. Please reach out!
Authored by: María van Putten and Gil Datz