And why it's important to keep your Google My Business (GMB) listing updated and accurate during the pandemic.
Online search behavior has changed substantially due to the coronavirus. On a global level, businesses have been considerably impacted and have needed to adapt swiftly in order to keep delivering value to customers. When customers search online, it is crucial for them to find your latest local business update. As this is likely the first thing customers see, the information listed will determine whether they will click through to your business' website. It is crucial to intervene early in the search journey of your users with important information. Informing the customer through engagement and communication as soon as possible will enhance the protection of the customer experience.
Descriptions on GMB listings will make it easy to manage displayed information, for example, operations within the business that are affected, extra precautions that are being taken or new engagement in community services. Write these descriptions in localized language. For example, as a restaurant you are allowed to add "delivery available" or "takeout available". Also, include safeguarding practices that are in place to protect employees and customers during the COVID-19 pandemic. Don't use GMB to add a link as this will hinder processing by Google My Business. Neither is this the place to focus on special promotions or offers your business is running at this time.
Oh… and in case you're still not sure what a Google My Business listing is…
Here's UZU's, as an example.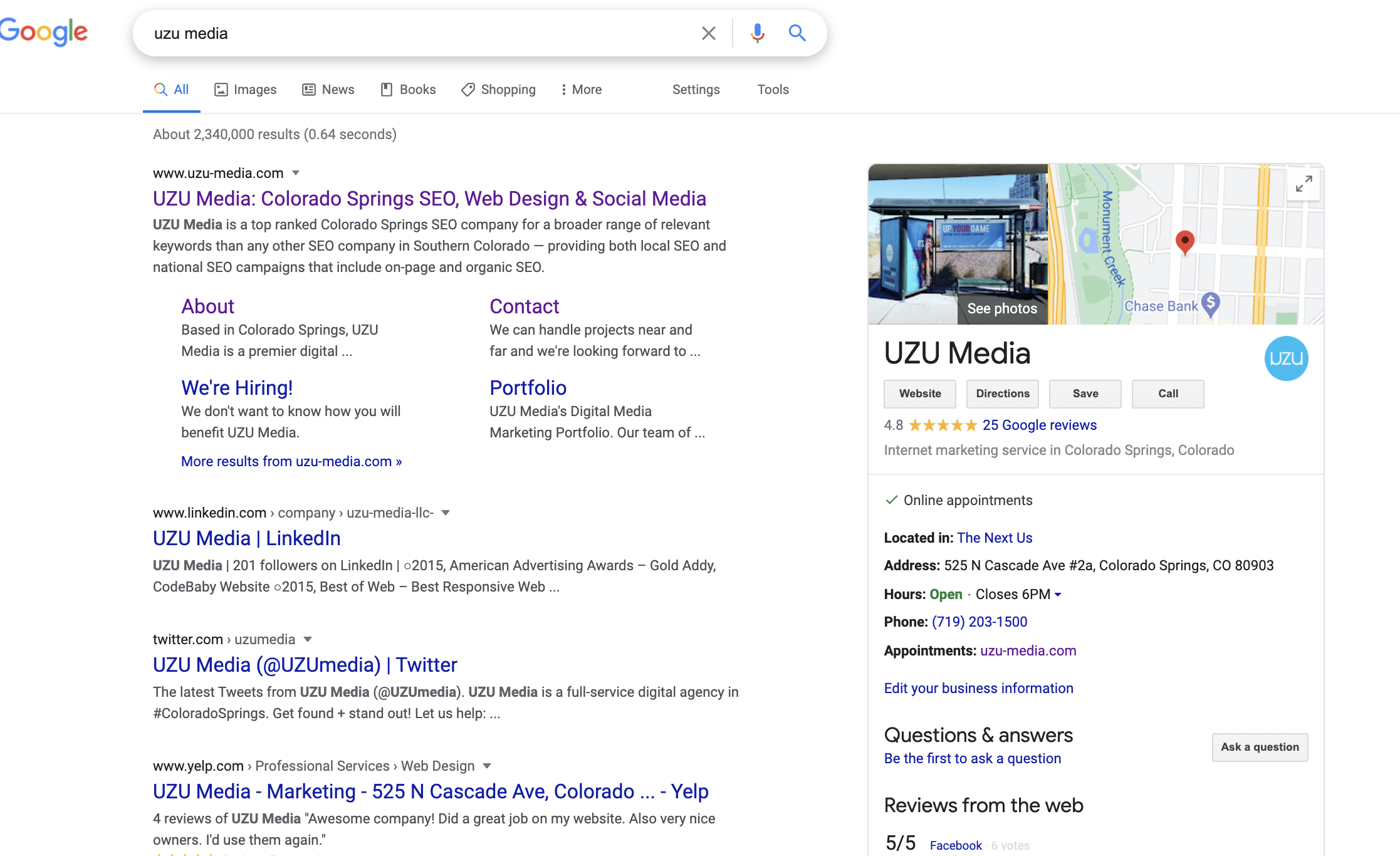 An Example GMB listing – UZU Media
To the left shows UZU Media's Google My Business (GMB) listing. If you don't have one, and people search for you, that area to the right with the pictures and map would be missing. AND possibly most important, the stars/rating section. 😉
Another perk of updating your GMB, is that as soon as you make changes like the above mentioned, those will be updated automatically across Google Search and Google Maps.
As the current situation changes every day, customers will always know what to expect from you through updated business information they can easily find through a Google Search. A key to being successful is to encourage communication and foster the engagement with your customers, and for that, Google My Business (GMB) is an invaluable tool.
Below is an example –
"But UZU team, is the GMB REALLY important?"
UZU Team, "Damn straight it is – look at the caption to the picture below".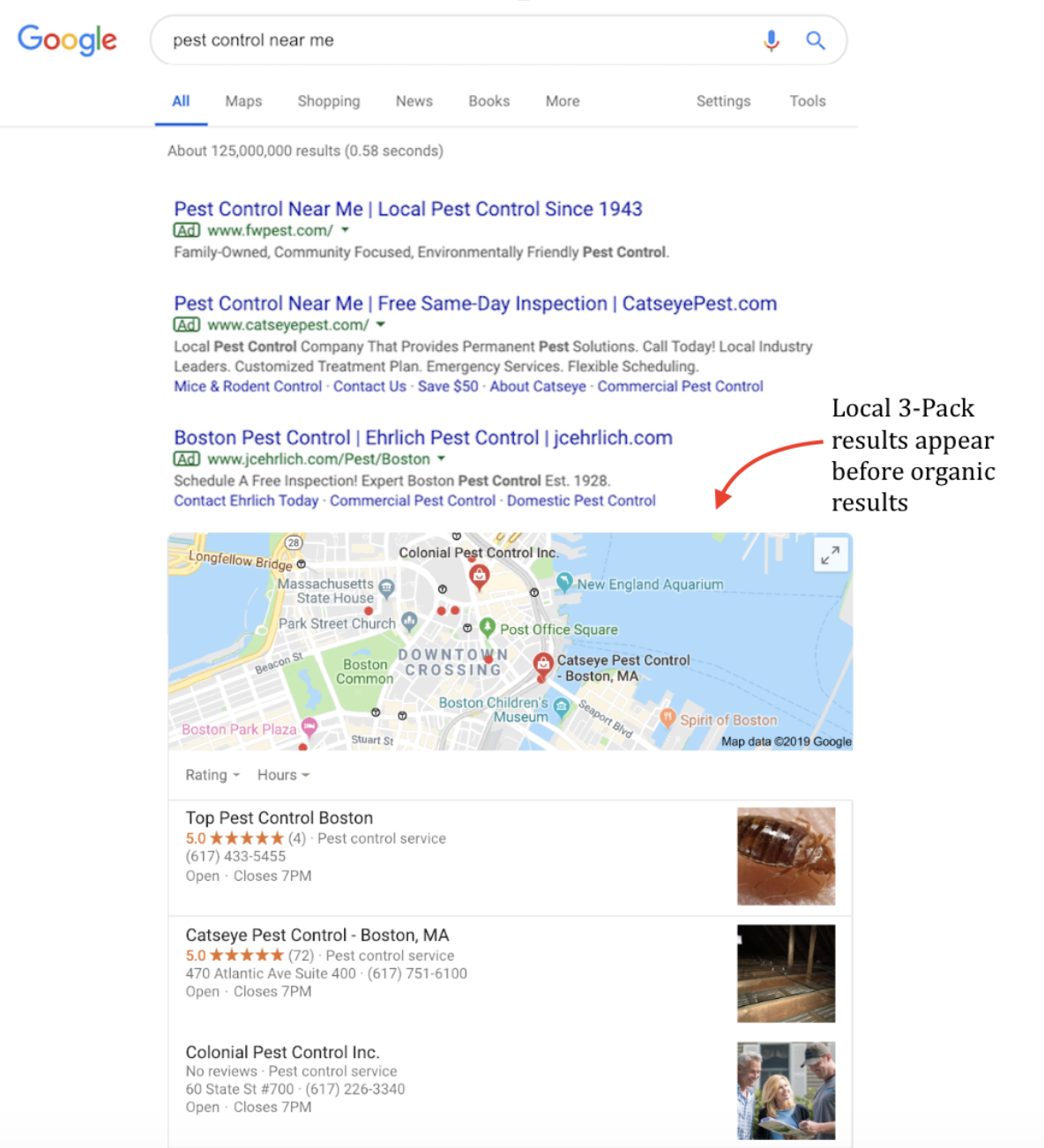 Local 3-Pack Results
Does a Google My Business profile impact 3–pack rankings?
Yes, it does!  About 25% of the weight of your local 3–Pack ranking signals comes from your GMB. It's affected here, more than any other category.
10 Reasons why you should have a Google My Business listing
1. Show Up on Google's Local 3 Pack
Google's Local 3 Pack is the section where Google shows a small list of businesses that are of relevance to the searcher's location. Google used to display 7, but it has reduced to only 3. Appearing on one of those three spots is crucial for any small business. If you invest in aligning your business' website content with the relevant, reliable and accurate information Google is looking for, the odds of appearing on this exclusive list go up. There are multiple different SEO tricks that can be used to make it easier to rank high locally, and thus to be included in Google's Local 3 Pack.
By creating a free Google My Business listing, businesses can highly heighten their chance of making it onto this exclusive list. Once on it, it will show your location on Google Maps and your business will show up before organic search results, which makes you so much more visible. Businesses that show up on this list have displayed a 7 times higher click rate than the ones that don't.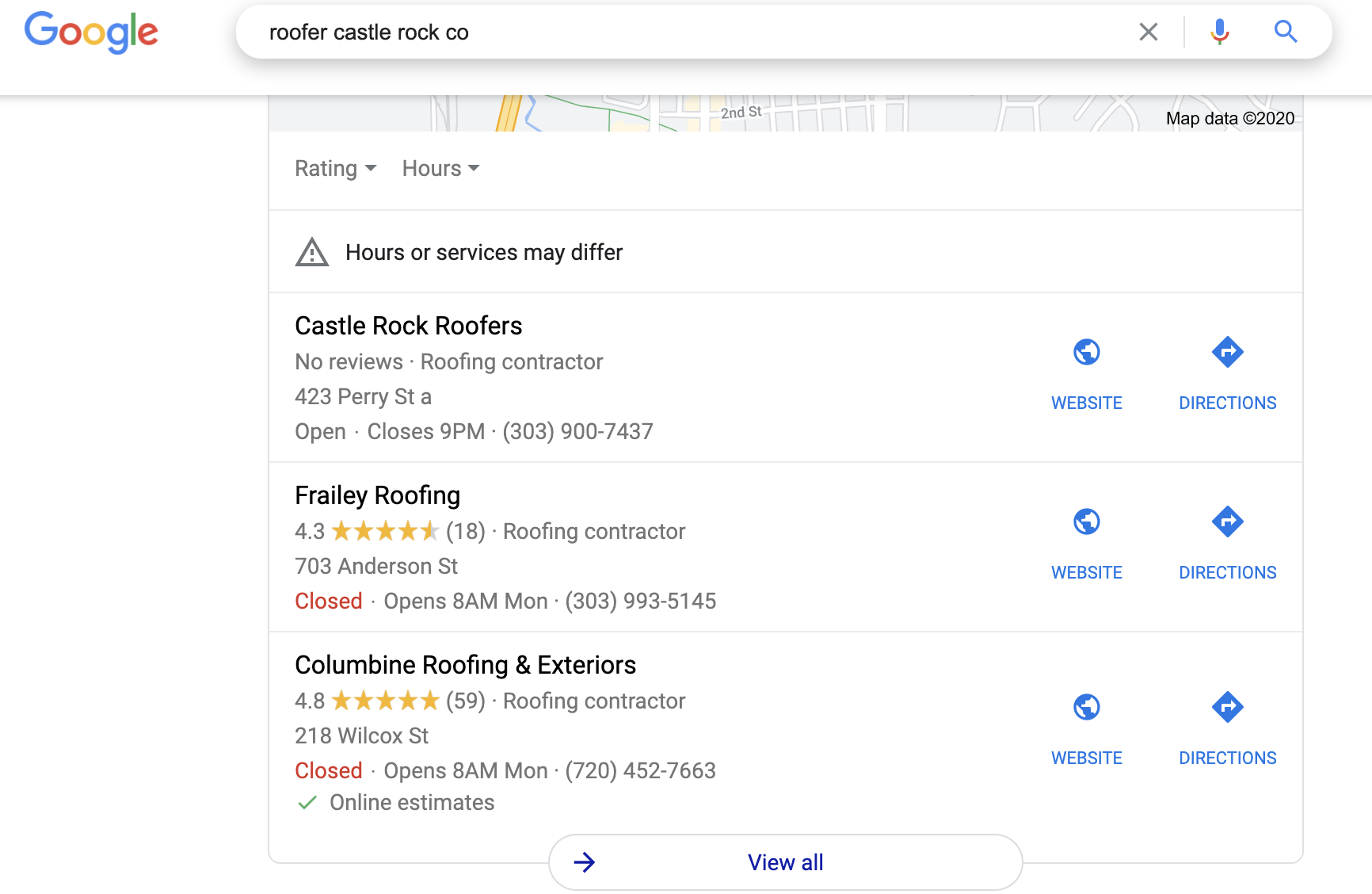 2. Have your reviews and star ratings clearly in view
Having a Google My Business listing gives your customers an easy opportunity to leave feedback on their experience and review your business. As a business owner, this will show you clearly how your products and the quality of delivery is being evaluated by your customers.
You can use this to instantly see where improvements can be made and what is working well already. As long as you keep investing in the delivery of products and experiences of higher quality, with time, the star rating system next to your business listing on Google will show a collection of higher ratings and more reviews. This is attractive to searchers. Responding to reviews will enhance that. It also helps to focus on growing a strong competitive edge in order to stand out against competing businesses nearby.
3. Use the "Insights" section to find valuable analytics
It doesn't matter what type of business you are, the more you can find out about your customers, the better you can learn how to create an appealing experience that will attract them to your products. Your Google My Business Page will offer an "Insights" section in which the visibility of your brand, your target customers, and their engagement with your business, are laid out. These analytics are a potent tool to determine how your business is doing, what needs more work and what is already delivering wanted results. The more you learn about the customers that are attracted to your website, the more you will understand how to modify and improve your market strategy.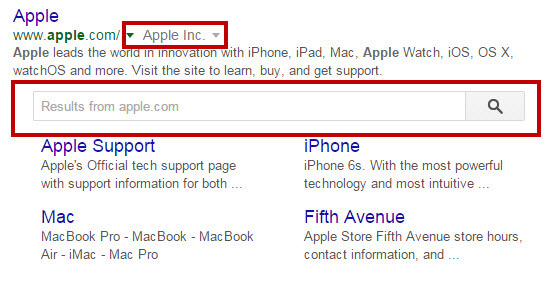 4. C
reate more opportunity for engagement
Your Google My Business listing will give customers the opportunity to access your website or call your business with one tap or click. The several buttons offered have different functions, from booking an appointment or reserving a table (see to the right). 
The conversion rate from potential customers to actual customers is greatly enhanced through this feature.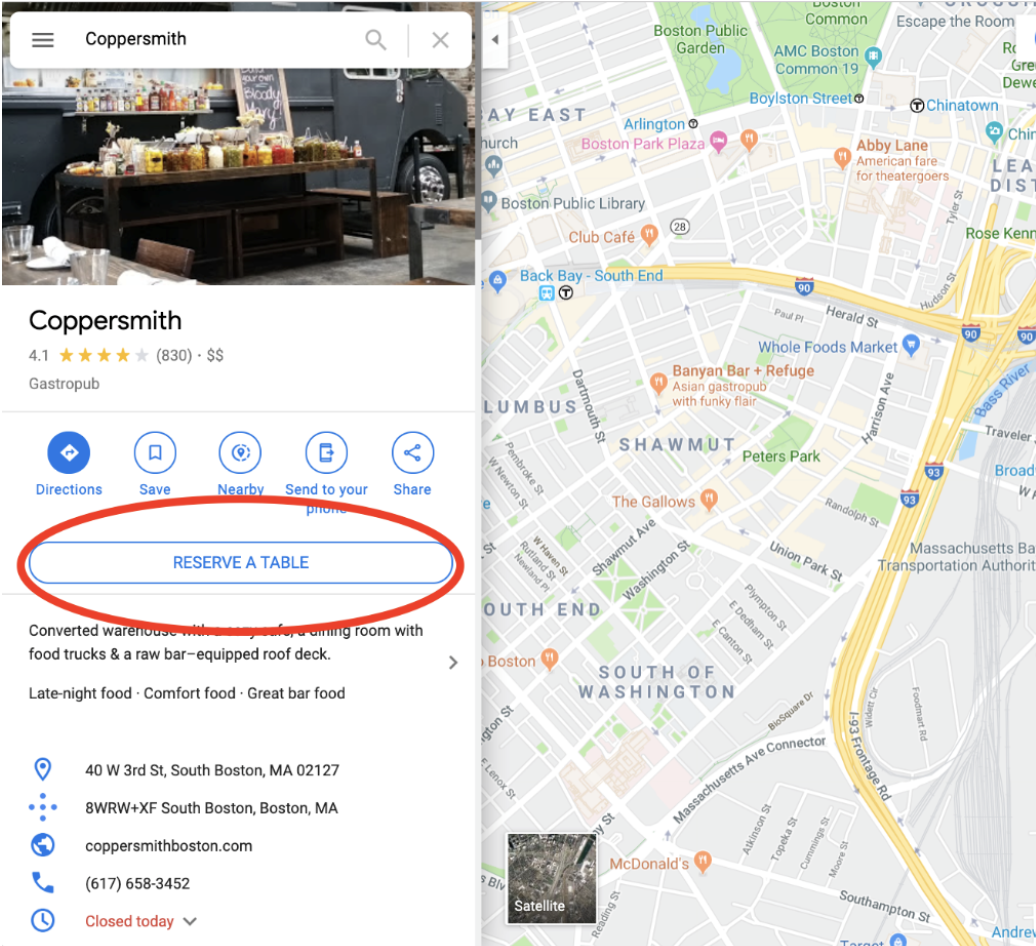 5. C
ultivate your customers' trust
The process of guiding searchers on Google towards visiting your website to become a purchasing customer, involves a lot of trust. Creating the amount of confidence needed to fruitfully complete this process is a challenge every business has to face one way or another. Showing potential customers that you have an actual location that shows up on and is backed by Google, helps foster that confidence, and, in that, makes the jump to purchase by customers as easy as possible. Over the years, Google has earned many peoples' trust. This confidence, inherently placed in Google, radiates through to your business when it pops up in a Google local search. Having your business show up on a Google My Business list gives a 2.7 times higher probability of being valued with distinguished reputation.
To be listed on Google My Business, one has to walk through numerous steps and a thorough process. This enhances the reputation businesses hold. A variety of verification steps must be taken before appearing on that list, which creates a trustworthy environment. Google users know this and rely on it.
6. I
ncrease and maintain website traffic and sales
Throughout any year, there is always a steady flow of ups and downs in terms of foot traffic and quality website traffic that are unavoidable. It is a challenge to any business to maintain these in the increase. A Google My Business listing helps raise this amount substantially. Anyone who browses is a potential location visit.
Showing up in local searches to Google users increases the likelihood of attracting visitors to your business with no less than 70%. Moreover, brands that are found by customers through a Google My Business listing have 50% more chance of being purchased from than others that aren't.
7. U
se your GMB listing as a way to advertise for free on Google
The only thing you need to invest in to create a listing on Google My Business is time – and in a way, it is a form of free and fast advertising on Google. Of course it is a good idea to run a Google Ads campaign, as it will help assure you a spot on the top of Google. But it takes effort to know what you are doing to maximize your budget, and, that said, a budget is needed to be able to run them. Another way of reaching one of the top spots on Google is to invest in your SEO strategy. This implies focusing and developing content, which makes it a lot more sustainable. One must keep in mind, though, that it takes time and money to build ranking and authority over your competitors.
Compared to this, a Google My Business listing will give you targeted exposure to searchers on the most trusted search engine.  Creating, claiming and verifying your listing doesn't cost you anything and it takes less time to set up and optimize than to build a paid search campaign. You will see results quickly. Investing on SEO through your website and the running of Google ads are solid strategies that are worth investing time and money in. Google My Business is just an additional way to cheaply and easily put your business out there.
8. 
Be visible on Google Maps
People like to see quickly where you are located on the map Google shows when a search is executed, to determine whether or not your location is in close proximity to theirs. It is the second most important thing searchers consider when they search for a local business.
When someone looks, for example, for an Italian restaurant, Google Maps fills up with many red markers, showing the searcher all the local businesses that fit the search criteria. When you create a Google My Business listing your business will show up for local searchers such as the one mentioned. People will instantly see how nearby you are to their location, and this will boost the possibility of them becoming a customer! See the example below, it shows a search for pest control businesses nearby.
9. 
Be more visible than your competitors
Your listing will show important information about your business that possible customers will use to decide if it is what they are looking for. It helps them get a quick overview of your business, showing them the uniqueness and authenticity that adds to the value you want to offer them. While scanning the results of their search, you will stand out from your competitors.
10. 
Get a higher ranking in search results
The way Google chooses which websites to rank higher in search results and on Google Maps, is by scanning for quality, consistency, and information that is accurate. Through your Google My Business listing you will be able to provide Google with much of the information Google wants from your business to tell all its users. As a result, you will add to the probability of being ranked to show up as a search result on the first pages Google displays to its users.
Especially during the COVID-19 pandemic, Google My Business listing offers useful attributes that help businesses remain flexible in their provision of information to their customers. These days, services that are being offered differ from the normal way of doing business and a GMB listing helps keep Google users up to date in a cost effective and efficient way. 
In Conclusion – Times are changing
Being proactive in your approach and updating your listing will help you to nurture brand-costumer relationships. Keep communicating updates about your business and respond to changes and maintain a steady stream of customer loyalty.
Take a few steps with what we've mentioned above. And as always, we're happy to set up a time to talk and help your business update and adjust. Get in Touch!
Authored by: María van Putten and Gil Datz