Branding and Identity for Colorado Springs Businesses
Representing the Face of Your Business
Ideas about business branding, strategy and identity have become too complex. The images that people see when associated with your brand, the stories they hear – should evoke a feeling.
Colorado Springs and Denver businesses are up for some strong competition. At UZU, we think that your online presence should tell people your ongoing story, and it should be memorable.
But… your branding and identity is more than just your logo. Much more.
Overall, your branding strategy and company's identity should represent how people would feel about your company when they spend time with you, your employees, your products and services. If your print and digital media don't match the experience people have with all of these things, then there can be a disconnect. Your logo and all marketing pushes should convey the ethos and values of your company. In our Identity Process, we will help you explore these things and then bring your vision to life with beautiful design and intelligent language. Our defined process walks you through website, print and logo design, bringing simplicity and ease to the branding process.
The challenge of branding and business strategy can feel daunting, but we will be with you the whole process and find new ways to communicate your brand effectively to your clientele. By providing a clear story and message about who you are and the services you provide, you create a bond of trust with your community. Great branding can also provide an internal rallying point that your team or teams can identify around. This is the foundation of what branding is all about! A well branded company sends a strong image to the community that it's reaching.
As a part of the process, we'll cover things such as:
Colors
Logo
Name
Typeface/Font
Shape
Icons
Tagline or Slogan
Imagery
Story-telling
Although branding and the associated elments is much broader than this, an example of some of these types of ideas is a the branding layout below of what UZU Media's logo would look like across different types of print media.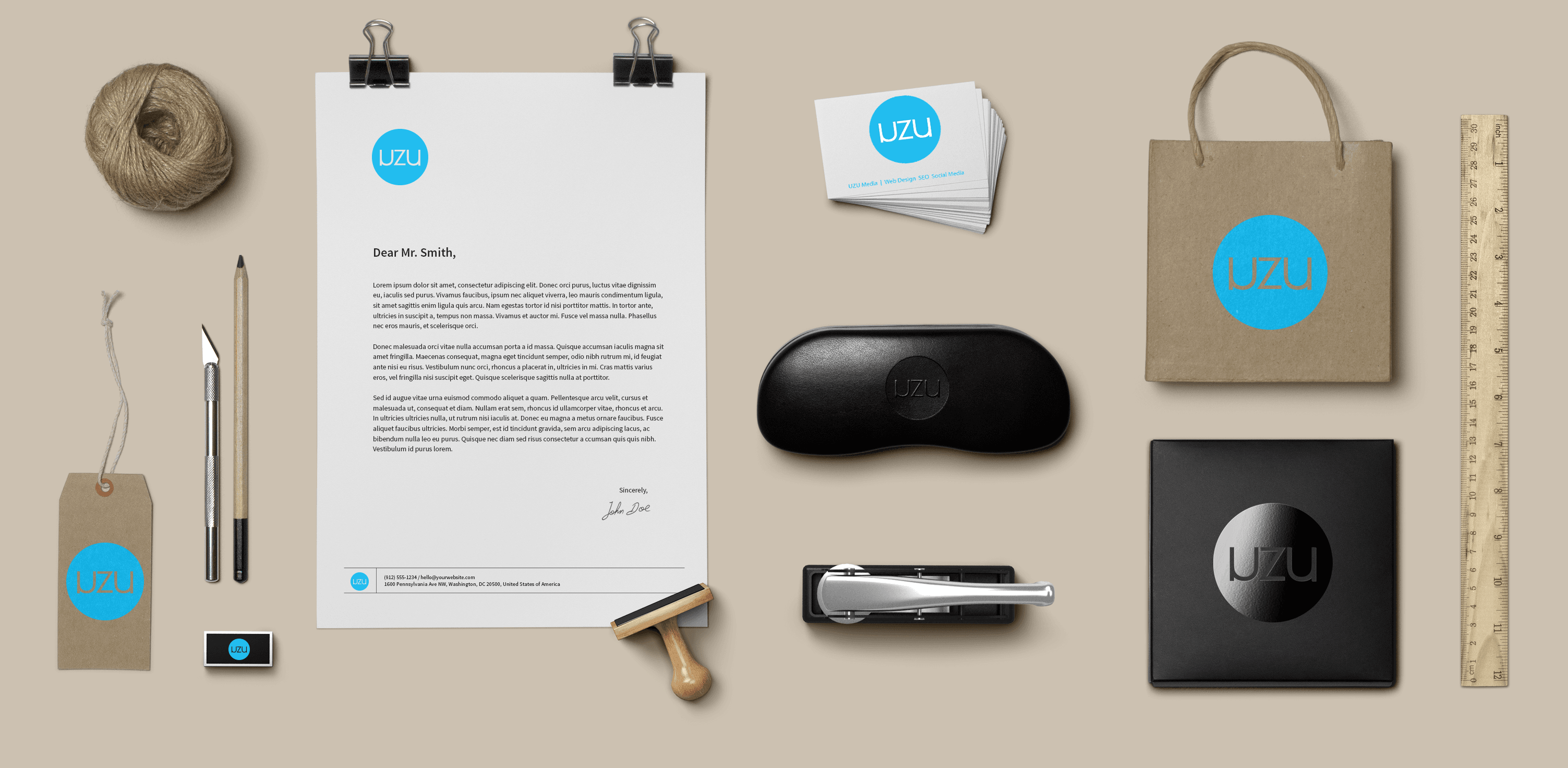 In addition to the above print media, your branding and identity should look and feel consistent across all of your digital channels: Website, Social Media, Social Video, TV and Radio Commercials.
As a Colorado Springs Branding company—our job is to first listen to the unique story of your company. What has led you here so far. We research and then evaluate what are the foundational elements of your message.
Next we come up with a plan of action to implement that will achieve the overall desired intent of the branding or rebranding campaign.
As we form new creative concepts, a successful brand vision begins to take shape, and can be implemented across your chanels. Every aspect of your brand communicates with a single strong voice.
Branding Colorado Springs + Denver
If you're in Colorado Springs or Denver, UZU Media would be happy to meet with you to figure out your branding, business strategy and identity steps. If you're a bit further away, as long as we have phones and internet, it's still very easy to work through our process. Branding packages are customizable for businesses of all sizes, so give Colorado Springs based UZU Media a call today to talk over the direction your company is heading! Or, if you're prepared to get going, head over to our Start A Project form.