A lot has been happening in the social media world over the last two months. Some of you might be thinking, "I didn't even know there were updates." Don't worry! I have all the ins and outs about the new updates including Facebook, Google+, Instagram, Twitter and Pinterest. From new previews to buy options, this is the only guide you'll need to maneuver the new updates.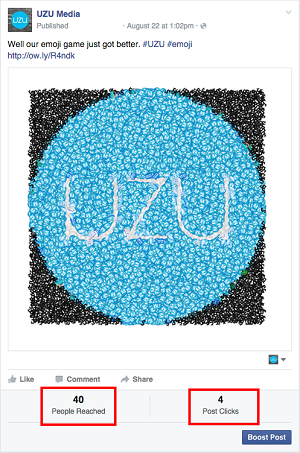 Facebook changes Insights
Facebook got smart with your News Feed; they want posts catered to you to appear on your timeline to get you to stay on longer and making messages from business and brands harder to get out. Insights are a great way to control not only the message that goes out but how it goes out, and how makes all the difference between a successful and unsuccessful campaign. Seeing these insights on your business page allows you to tell when a strategy is working or not and allows you to make adjustments in real time. The new update on Facebook displays these insights on each post. You don't need to go into the Insights tab to see the posts (although you can to compare the posts each other). If you have one post in mind, you can find it on your timeline and analyze the data. How nifty!
Google+ adds extended social sharing
While not the most popular social media platform in most user's minds, we social media marketers believe this platform to hold great value. The platform allows for posts, circling your friends (like friending on Facebook), and following some of your favorite brands and businesses. Just like on Facebook, you can share these posts to your own stream. The update that makes Google+ different is a slight one. Right in between the +1 (liking someone's post) and the arrow (sharing the post), is a dropdown menu that allows you to share this post across other social media platforms. (At the time of publishing this blog, this hasn't updated across all profiles yet). Now as far as I've seen, and the years I've explored social media, this development is groundbreaking. A great article you find on Google+ can be shared to Facebook. The graphics included with the image may be lost (this could be due to this being a new feature) but the concept hasn't been introduced until now. The buttons to share articles were on websites, just not to share posts from one social media platform to the next.
Instagram makes search more powerful
An update from Instagram that was released weeks ago is one we are excited about here at UZU Media, me in particularly. There are tabs along the bottom of your screen in Instagram. Clicking on the search icon will lead you to the usual search page to find hashtags or other users. The new update shows you trending hashtags, let's you explore popular posts and find new people, trending places or topics of Instagram's choosing. Some of the trending places that are currently trending as I type are Madison Square Garden and Central Park. I've personally never been to Madison Square so I might choose this section to explore pictures users have posted. This is why I love this update so much!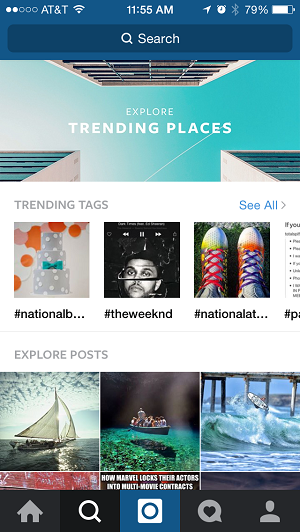 You can explore these popular locations through other users' eyes and actually SEE the locations. You can practically explore the world through your phone.
Twitter simplifies their process
The dreaded 140 character limit. While most of us haven't loved this feature, it's what makes this platform standout and unique to the rest. Including a link into a tweet would usually include needing to:
Upload link
Attach picture
Post
Guess how that's changing? (Hint: it's similar to Facebook.) Link previews! By attaching links to your tweets, you can see a link preview in your tweets. Unfortunately, you can't see this when you type your tweet so you can't determine whether you need to add a picture or not. Another update Twitter had was with direct messages or DM in twitter-speak. Only users following each other were able to message each other- now that's gone. You can write anyone you'd like and now with unlimited characters. Messages also had the unfortunate 140 character limit. What happens when you really had something to say, maybe to write us about? Well now you can write as many characters as you feel to anyone you please. So why not send us some love on Twitter?
Pinterest adds a new option
Pinterest is the king/queen of DIY projects and researching an ideas you have from hairstyles to what to wear for that day. I've always found it frustrating that when I clicked on the link associated with the pin, I was never brought back to the website to find those clothes or interior décor ideas. Pinterest heard our cries and has introduced their new "Buy It" option. Now pins that lead you back to the website with that item with have this blue icon to know it's legit. The catch: this option is only available on mobile devices.
July and August were certainly exciting times for the social media field. There were quite a few updates on platforms from Facebook to Instagram. With any new update to a social media platform, you can either get scared away or embrace the change. The new features on these social media sites should get you excited mainly because they are solving some of the issues we face as users.
If you feel like you don't have enough time to manage these pages, let me help you. Take a look at our social media profiles, see what we do, and let us take the worry off your mind. We have you in good hands. Or, if you just need a bit of help, I also do consultations over SKYPE or over coffee (if you're here in Colorado Springs), so get in touch!