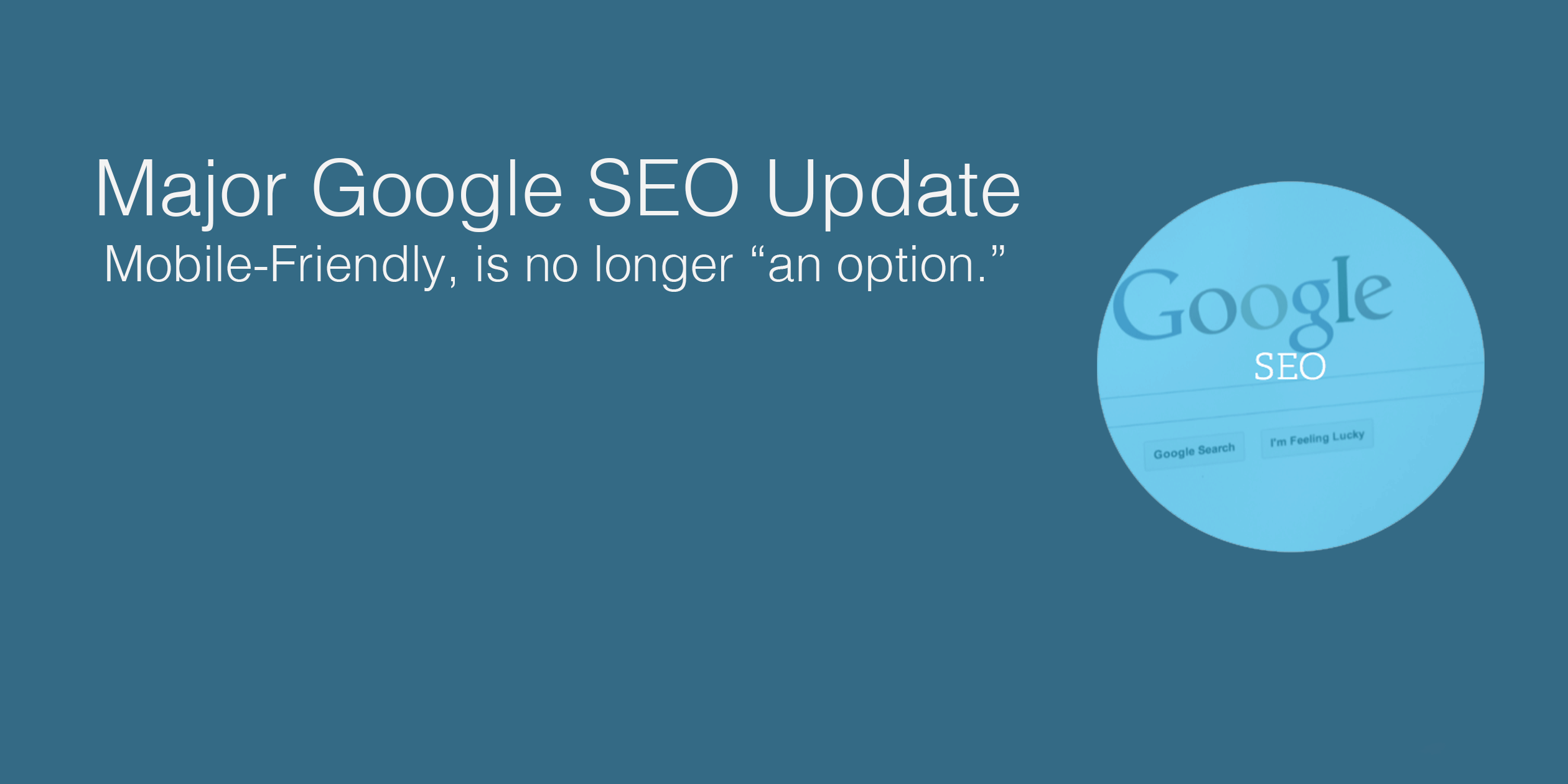 You've heard the hype
You've heard the hype about mobile devices taking over the larger sum of ways people find their content – this is no longer hype, it's now a reality; one that Google see's as the wave of the future.
Quite frankly, what Google says, goes. 
Now, Google isn't making this update to ruin everyone's lives. In fact, it's quite the opposite – as Google has seen the massive shift in mobile device usage to access the internet, their algorithms have adapted to help mobile users find content that works well on their devices at a much easier rate. When Google announced back in December that there were going to be major changes coming in regards to mobile-friendly websites, no one truly knew what that meant, or how it would impact an individuals website. Google isn't going about this in some spiteful manner – they have been kind enough to let us know ahead of time, and even given us the tools to make sure everything will fall in line with the need to know.
In my opinion, this is nothing shy of a step in the right direction – I'm tired of having to zoom in and out of websites on my mobile device to get to search bars, read content, or push a button that looks like a microscopic piece of dust.  With that being said, if you weren't already up to date with your online presence, you better get with it before April 21st. Google has announced that these changes will have significant impact on the SERPS. If you aren't ready, all of your competitors will be taking your pretty little spots on page 1 of a Google search.
As I said before, the rumors surrounding mobile-friendly websites have been around for a while, but it might be that Google has in fact givinen us ample amounts of time to ensure that everyone has been optimized for web.
Advantage of Mobile Friendly Design
If you've already had a true mobile responsive website, you've more than likely already been taking advantage of increased SEO with the reduction of bounce rates, which keeps people on your pages longer, and allowing them to functionally move throughout the site with ease.
UZU Media Responsive Sites
Fortunately, we pride ourselves on consistently being up to date across all platforms for our clients. We have already gone through to see if our customers sites are 100% optimized for mobile searches. For those of you who haven't been fortunate to work with a company that truly serves those they work with, Google has been kind enough to give you a step-by-step, to make sure that your company website will be fully compliant before April 21st. If it seems too daunting of a task to go about yourself, we would be more than happy to assist in the process. After all, we truly love our clients and those we interact with – we would be honored to have you on our team.
Leading up to this event, Google has started #mobilemadness with information for website owners to learn how to make their sites mobile friendly.
Google has kindly created a guide to mobile friendly sites. 
With the constant shifts in technology, it's important to get in touch with your web design team – whether in house or outsourced to a company like ours, and see how your website has done over the prior year. Things happen, SEO algorithms change, and the market is increasingly ever more competitive.