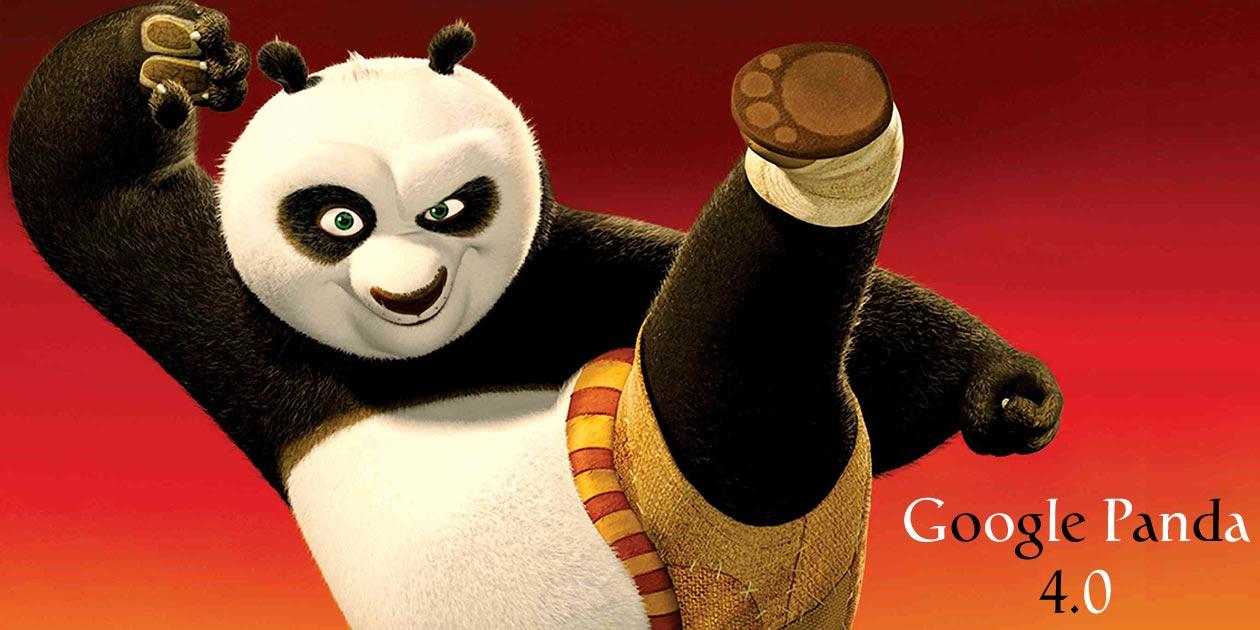 Have you been kicked (penalized) by the Panda again? Well, as we wait for all of the dust to settle after Google's new Panda algorithm update, the SEO world has had some observations surrounding the timeframe of the update. This version of Panda is not just an algorithm refresh, but different enough to actually get it the designation of "4.0". Matt Cutts announced on May 20th over Twitter that Google was rolling out the new update, although possible effects could be seen the day before that.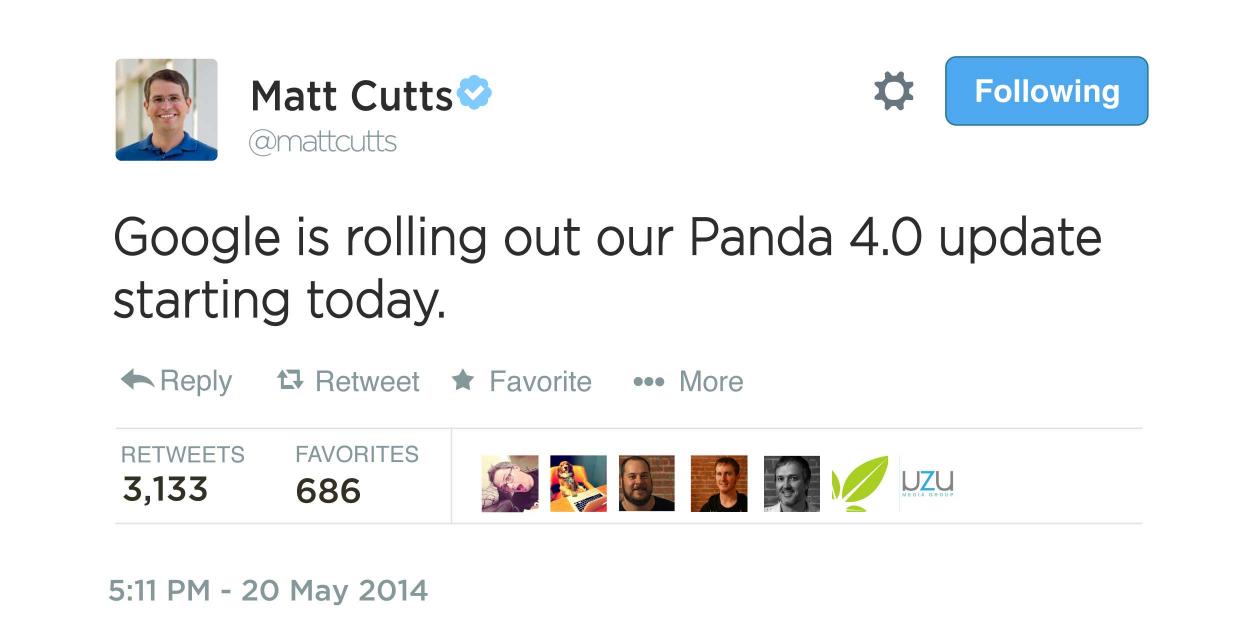 What does it do?
The Panda update is a filter that was originally introduced in early 2011. The goal of this filter was essentially to keep poor content sites from making it onto page 1 of Google's results. It targets top 10 results that are still gaming the system in one way or another. The idea is to make sure that top results are being achieved by sites with quality content. Sites that don't have quality content should be penalized under this algorithm. The Panda 4.0 update will affect approximately 7.5% of all English queries searched on Google.
Press Release Sites
Barry Schwartz, founder of SERoundtable.com and news editor at SearchEngineLand.com did an analysis of how Panda 4.0 has affected press release sites. His results show that the major wire services have lost significant visibility and traffic as a result of this update.
"This drop seems to have come right after the Google 4.0 update. The controversy around press release sites were mostly about links flowing from those releases, not necessarily the issue with the duplicative nature of that content. But let's be honest, many many press releases issued are content thin and spammy on the content end, not just on the link end. So maybe, just maybe, Panda 4.0 adjusted for it and the big sites felt it?" writes Schwartz.
As an example, PRWeb.com, a major press release distribution web site, saw a huge drop of approximately 71% after Panda 4.0: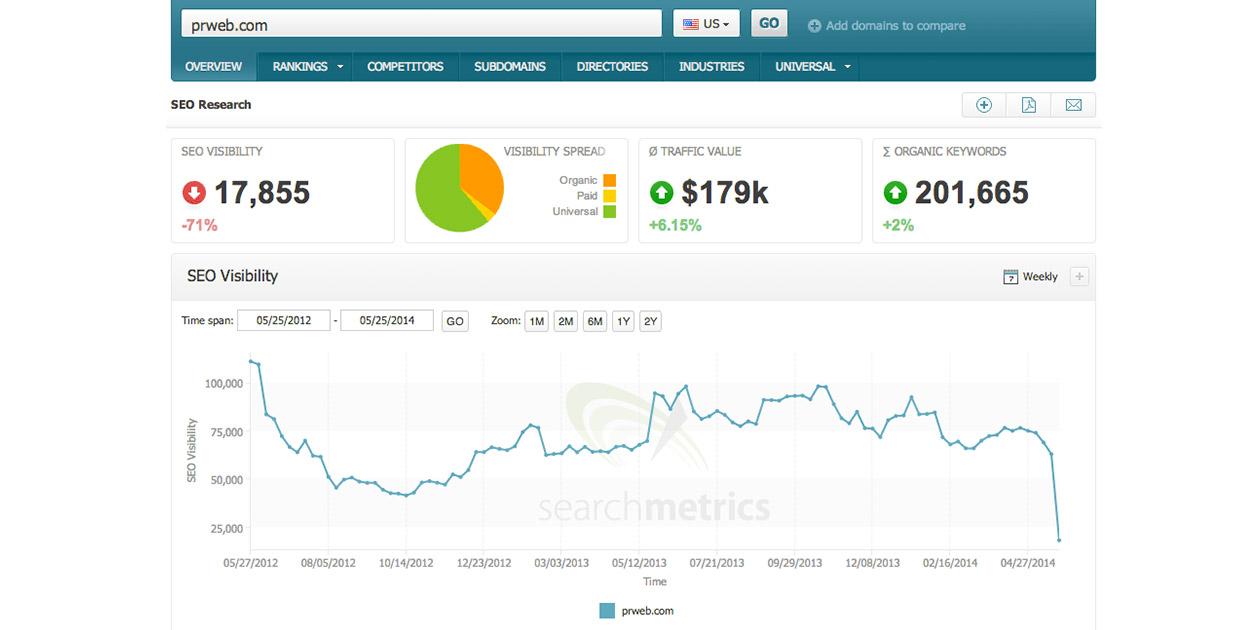 Other PR sites that showed huge drops similar to PRWeb.com after the update:
PRNewsWire.com dropped ~ 63% after Panda 4.0 was released
BusinessWire.com saw a ~ 60% drop after Panda
PRLog.org saw a big drop in mid 2013 but then another dip right after Panda 4.0
This would seem to be a sign that Google isn't endorsing the idea of the press release website any longer.
What's some of the history to this? Back in December of 2012, a Google Forum question was asked:
"I am wanting to issue a press release about our new site and product, however, I noticed that there is a lot of talk about getting penalized if too many links point to a website too quick. I am researching press release companies to make sure the one I choose only sends the PR out to legit news media and online media, but I do not want to get penalized if they link to my website. Does anyone have any advice about this?"
Cutts said in answer to that. "Note: I wouldn't expect links from press release web sites to benefit your rankings, however."
Now, there are still some benefits of these PR sites. When someone does a press release, and posts it to a site like this, you still might get your website in front of the eyes of bloggers, reporters, etc., where what they write or link to may have an impact on your rankings. But as far as the links within the releases themselves go, Google has said that they won't help your rankings. In addition, if these sites are showing up in rankings less and less, it's becoming a less effective tactic to SEO and traffic strategies.
Others affected
From another blog article over at Searchmetrics, there were some other big winners and losers from this last update. Among other top websites that seem to be most affected by the update were sites like Ask.com, eBay.com, Retailmenot.com, Starpulse.com, and Dealcatcher.com. This data shows organic SEO visibility for researched keywords compared to last data points before the update. To show the variety of some of the more well know companies and their relative visibility numbers after the Panda update, we list a few results below:
ask.com – ~50%
ebay.com – ~33%
retailmenot.com – ~33%
biography.com – ~33%
starpulse.com – ~50%
dealcatcher.com – ~50%
webopedia.com – ~50%
cheapflights.com – ~33%
yourtango.com – ~75%
mnn.com – ~75%
Another huge hit, interestingly enough, was YellowPages.com. Even though YP seem to not be hit as much as some of the others (only about 20%), it shows the types of sites that are being targeted with this kind of an update. Click on the link at the top of this paragraph to see more of those hit and even a list of those with increased visibility in the SERPs.
Takeaways for small business + website owners
With any article like this, cause and effects of the recent update are speculative. Interpret with caution, of course, but proximity of some of the events in search traffic mentioned above to the Panda 4.0 update seem to be particularly telling.
It's also worth remembering that this is a sample of search terms. The only way to really know if any update has hurt or helped you is to look at your search-driven traffic from Google, rather than particular rankings or lists like this, which have become popular after Google updates. If you've seen a significant increase, you've probably been rewarded by it. Have big decreases? Then you were probably hit by the update.
And as a reminder, it's important to focus on the huge hit that PR sites took. Google seems to be cracking down on the barrage of PR articles that are going out from these types of sites. This lines up with Google's values of steering people away from web spam and also redundant content. Because of these factors, this seems to no longer be a good tool in the SEO's tool kit. So consider checking with your SEO provider (if you have one or are considering one) and see if this is one of the tactics they're using. If it is, it might be time to see what else they're doing that is outdated or ineffective.
Paid activities versus merit
The SEO trends are obvious. SEO tactics start to work, everyone copies it, things become spammy, Google penalizes it or devalues it. Repeat. And that's why SEO gets a bad rap. Stop it already, okay?
High quality content always works though. The search engine's job is to give searchers the most useful information for a given subject. SEO is still necessary, but let's appreciate all that Google does to keep people from playing the system.
If you need help establishing a regular high-quality content strategy for your website, get in touch with our SEO experts over at UZU Media.