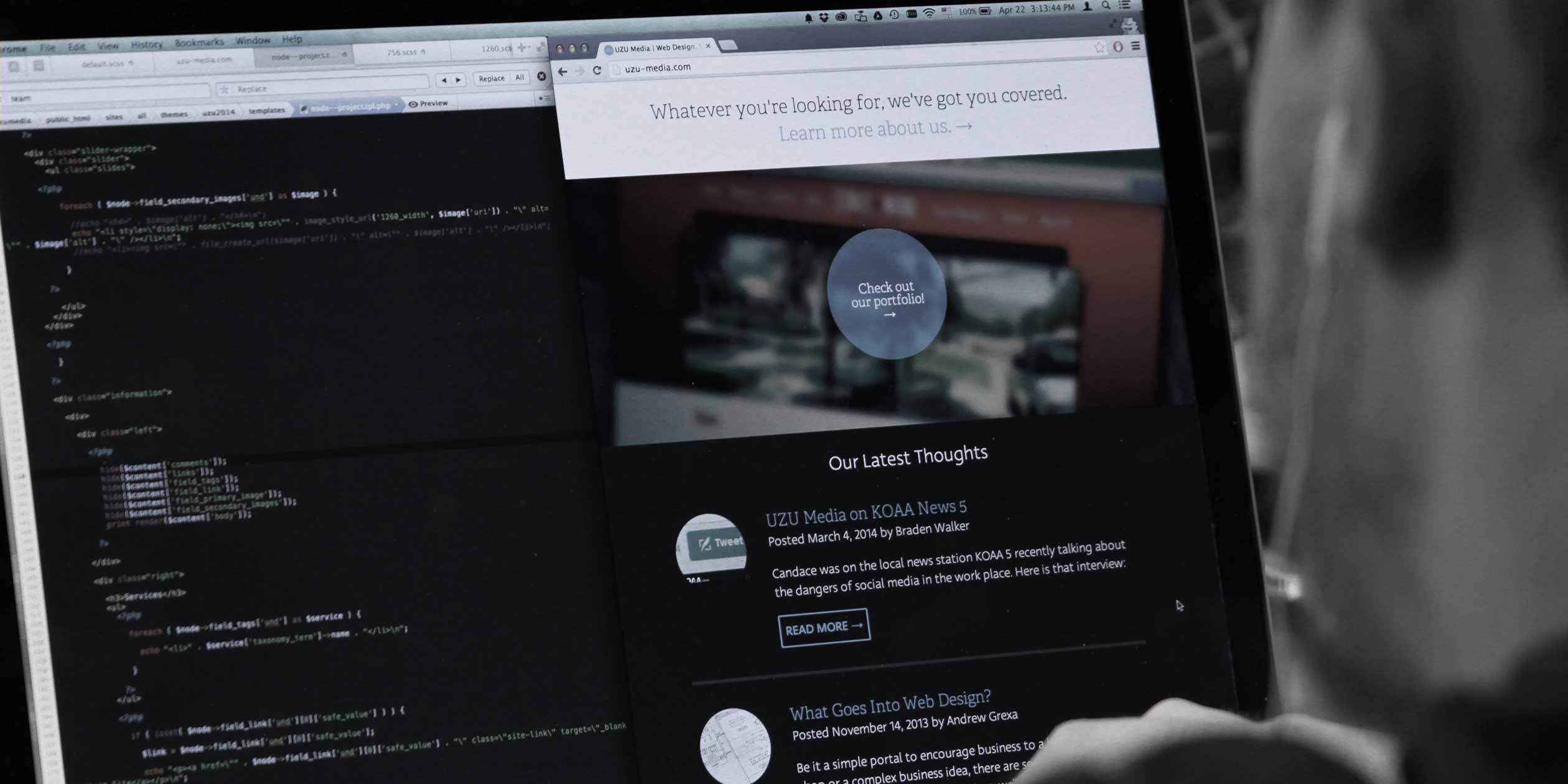 Web Design
We Make Websites of All Types
Do you need help with your website? Is it time for a refresh? Or did the last company promise the world and leave you with a site you can't update without spending a fortune?
UZU keeps up with the latest in web design advances so that your business makes a great impression to your customers. Our websites are fast-loading, clean, modern, and tailored to function as a 24/7 marketing monster. All other forms of your marketing campaigns (social media, pay-per-click, etc.) will point back to your website which means your page needs to be beautiful and functional. Recent research shows that you have less than 3 seconds to catch the attention of web visitors. As such, your site needs to be setup in the best way possible for people to find the services or information that they're looking for. We will work closely with you to create the best site for your business – one that will help you capture the attention and trust of your consumer. Keep reading to see how exactly we do that.
Content Management Systems (CMS)
Here at UZU Media we use WordPress, Joomla and Drupal platforms to build our sites because of the great product they allow us to create for our clients. They are both Content Management Systems (CMS) and offer powerful, yet flexible, web solutions.

WordPress has become THE most popular CMS globally, and with good reason. It is web software you can use to create a beautiful website or blog. WordPress.com offers a "free" website builder that is fairly limited, but WordPress is also the content management system (CMS) through WordPress.org, which powers millions of business and blog websites. It is the easiest to learn for the business owner that is still wanting to have the ability to add content and make changes. Because it's so widely used and there are so many free templates, plugins and widgets for WordPress, there are also potential security issues. This is only a problem if you're not updating your CMS, or if you chose a free template that happens to have backdoors or malicious scripts installed.
The core software of WordPress is open source, which means it is primarily built by a large community of volunteer developers. Over 60 million people have chosen WordPress to power their professional websites. WordPress is one of the top options for many business and personal websites, depending of course on what you need to do with it.
You're in good company if you choose to use WordPress to publish your website. Here's a partial list of some of the well-known companies that have sites powered by the WordPress CMS: NY Times, Forbes, Reuters, GM, UPS, eBay, Sony, Best Buy, TechCrunch, Samsung, Mashable and the list goes on.
Whether you're looking for help taking your WordPress site to the next level, or for some great WordPress web developers and designers to help you with your new project, we're confident you'll love our Colorado Springs web design services team.

The Joomla sites that we create are easy to use, but powerful enough to handle all of your content and the special features you want incorporated into your site. Companies like Ikea, Sony Pictures, Ebay, Barnes and Noble, Nikon, and GE have chosen Joomla as their CMS. While Joomla still provides a great value for your company, and we're still able to handle Joomla requests, because of their waning strength of their developer community in the last year or so, we feel that either using WordPress should meet most small business needs, and Drupal is our CMS of choice when WordPress isn't able to meet a company's website needs.

Our Drupal sites are completely customizable and will provide you with a flexible and highly responsive website. Drupal is one of the most powerful Content Management Systems available and we are proud to offer this high end product to our clients. Multiple government agencies have built their sites in Drupal as well as NASA, 20th Century Fox Searchlight, and Warner Bros. Recordings, which shows the advanced applications that this CMS can handle. Our own site for Colorado Springs based UZU Media was built on the Drupal CMS.

Mashable.com wrote a great article on Why 2013 is the Year of Responsive Web Design. At UZU, we recognize that responsive web design, or RWD, is more than just a trend. It's a strong design strategy that supports the direction that online searches are moving, which is towards mobile search. From desktop to laptop to tablet to phone, a responsive website adjusts (responds) to the size of the display that it's being viewed on. This not only makes having a separate mobile site obsolete, but it integrates for better SEO results since you're not splitting your web traffic between your main site and your mobile site. For more great info on Responsive Web Design, see our blog What is Responsive Web Design? And Why Should I Care?
Company after company are switching their websites over to responsive ones and we're really impressed by the creativity that goes into creating quality sites with great UI (user interface) irrespective of the device it's being viewed on. Get in touch with us to start the process of figuring out the best website options for your business.
Other Web Services by Uzu Media
If you're interested in some of our other website services, like Site Maintenance, Backups, and Content Updates or Hosting and Domain Services, please go to our Wesite Hosting and Maintenace page. We also provide services for Denver web design, and Pueblo web design.
Thanks for stopping by to learn about how we make our website choices! Whether you googled – Web Design Colorado Springs, Colorado Springs Website Designers, Colorado Springs Web Development and Design Services, or WordPress CMS Colorado Springs—we're so glad you found us! Let's get started on your exciting new web development project!